Kieran McManus shot dead outside west Belfast pizza shop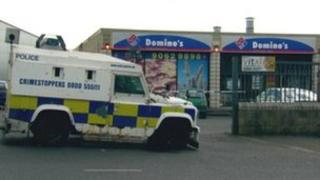 Police have said the man in his 20s who was shot dead in west Belfast on Saturday was Kieran McManus .
The 26-year-old delivery driver was attacked at a car park outside the Domino's Pizza shop on Kennedy Way at about 23:20 GMT.
The PSNI said the father of a six-year-old child was shot a number of times at close range.
He died shortly afterwards in hospital. The police are investigating a motive for the murder.
It is understood Mr McManus was originally from the Turf Lodge area of west Belfast.
The area around the shop remains cordoned off and police have also been examining a number of other areas including one street, where it is thought a car used in the attack may have been burned out.
Det Ch Insp Karen Baxter said Mr McManus was a young man who had been brutally gunned down in a public area.
"What we know is that at twenty past eleven last night, Kieran was with a number of friends when he was shot at short range by what we believe was a lone gunman," she said.
"We haven't ruled out any motives at this stage, it is much too early with regards to the investigation.
"We are thankful that the public have come forward, a number of people are assisting us but we know that there are other people who are out there and they do have information.
"We also know that a dark red Astra vehicle was found burnt out a short distance away in Deanwood Park."
She said Mr McManus was known to the police but nothing justified the "brutal attack and the death of a young man".
'Precious human life'
Justice Minister David Ford said he condemned the murder "in the strongest possible terms".
He added: "There can be no cause that can justify the taking of a precious human life and no excuse can explain the suffering that results.
"I offer my deepest sympathies to the family of this young man and also my prayers on this Easter Sunday."
Sinn Fein West Belfast MP Paul Maskey said: "It's hard to comprehend how somebody can come out and kill someone who is at their work.
"I think that is really shocking news and any of us who heard about it were absolutely devastated."