Martin McGuinness in Easter Rising commemoration warning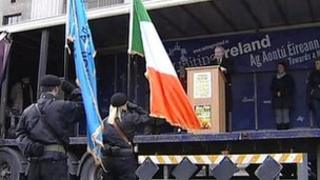 Deputy First Minister Martin McGuinness has said the union flag dispute and dissident republican violence underline the need for more political engagement.
He was speaking at a commemoration in Dublin to mark the 1916 Easter Rising.
Mr McGuinness said there remained "small, unrepresentative minorities" among both nationalists and unionists opposed to the principles of peace.
"They are the enemy of society as a whole," he said.
"There are people who dream of wrecking the structures of change. They want to destroy rather than build. Their tools are bigotry, mistrust, militarism and sectarianism.
"Those who prefer conflict and confrontation must be opposed by political leaders united in a vision of a peaceful, inclusive and shared future."
Meanwhile, Sinn Fein vice president Mary Lou McDonald said republican splinter groups must end their armed actions immediately.
Giving the address at the annual Easter commemoration in Belfast, Ms McDonald said Sinn Fein is open to dialogue with the dissidents.
She said armed conflict was in the past and had no place in the present.
Ms McDonald said such groups are acting out a travesty which too often turned to tragedy.
Speaking at Milltown cemetery, she also reiterated Sinn Fein's demand for a border poll, arguing that the campaign for such a referendum should threaten no-one, but demonstrates Sinn Fein's resolve to end partition peacefully.