NI police using electric car on patrols in North Down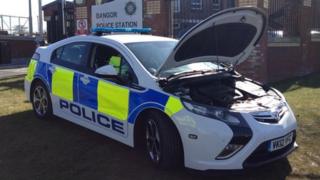 The Police Service of Northern Ireland is using an electric car on patrols for the first time.
It is on loan to the PSNI in north Down for six weeks as part of a pilot scheme.
The Vauxhall Ampera features a hybrid engine; it can be driven for 60 miles from a full charge and is supported by a petrol engine.
The move is part of the PSNI's commitment to reduce its impact on the environment .
Chief Superintendent Yvonne Davidson said: "I am pleased that the car is being tested within C district.
"Officers routinely take it out on patrol and they tell me they are impressed by the quiet engine and the efficient running of the vehicle."
The car is supported by a 1.4l petrol engine that will activate if the charge drops below a predetermined level. The battery engine is charged through a normal three-pin socket.
The car has been given the full PSNI livery and officers will use the vehicle as part of their normal policing duties.
Marcus Belshaw of the PSNI said: "The Vauxhall Ampera is part of a PSNI pilot scheme looking at the pros and cons of using electric vehicles.
"Similar vehicles have been requested from other manufacturers and, following their assessment, PSNI will consider whether to add the electric vehicle to the fleet."