Northern Ireland businesses warned about phone hacking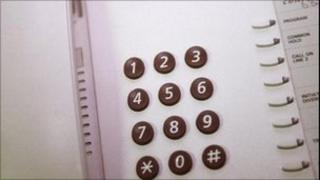 Businesses in Northern Ireland have been warned about phone hacking after a number of companies reportedly lost thousands of pounds.
The warning has come from independent business telecoms company, Rainbow Communications.
It said criminals have been breaking into phone lines remotely and racking up large bills.
One Belfast firm lost £10,000 in just one weekend while another in north Down lost £3,000, the company said.
The Belfast company operates in the services sector and the north Down company is in the retail sector.
Companies in the manufacturing and software industries have also lost money, Rainbow Communications said.
"It is the business that is solely responsible for the fraudulent call charges so it really can have a detrimental effect on any firm in Northern Ireland," David Beatty, head of systems and data sales with the company, said.
"This type of activity is linked to organised crime and the international criminals are increasingly targeting UK companies.
"There have been cases of businesses losing tens of thousands of pounds."
Mr Beatty said this kind of phone hacking was "a real and serious concern for businesses in Northern Ireland".
"Fraudsters are making thousands of international or premium rate calls resulting in substantial costs at the expense of the unsuspecting company."
Mr Beatty said figures showed that global losses due to this type of fraud amounted to $15bn (£9.94bn) a year.
Ultimately, companies were responsible for all calls made using their lines, he said.