Belfast Zoo to reopen after snow closure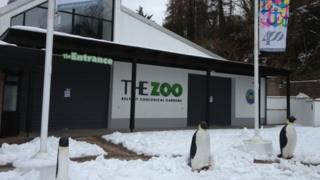 Belfast Zoo is to reopen later after being closed over the Easter holidays due to heavy snow on the site.
Snow lay up to two feet deep and caused significant damage to the zoo's facilities.
The zoo closed on Friday 22 March when the snow began falling.
Since then, work has been carried out to remove fallen trees, repair enclosures and make the site safe for both animals and visitors.
Zoo manager Mark Challis said: "We had originally aimed to reopen on Thursday 4 April, but there was still some essential maintenance work outstanding around the site, including some repairs to the Sumatran tiger and African wild dog enclosures.
"Although this has been an extremely disappointing and difficult time for the zoo and for our visitors, huge efforts have been made by the entire zoo team to ensure all our animals continue to be well cared for.
"Significant help has been received from our colleagues in the parks and leisure department and property maintenance who have also worked tirelessly to enable the zoo to reopen this Friday.
"We look forward to welcoming everyone back."