Ash trees at Diamond Jubilee wood at Whitehead under threat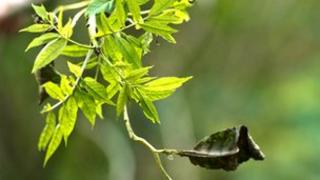 More than 20,000 ash trees may have to be destroyed at Northern Ireland's only Diamond Jubilee wood.
The Department of Agriculture and Rural Development (Dard) has said samples from the 60-acre woodland near Whitehead have tested positive for chalara fraxinea.
The fungus causes ash dieback disease.
Hundreds of volunteers were involved in planting 60,000 native saplings to mark the Diamond Jubilee last year and the park was officially opened in June.
Sixty diamond woods were created across the UK.
Dard said it would be discussing the implications with Carrickfergus Borough Council which owns the woodland.
The department said that as of 4 April 2013, the disease had been identified on 36 recently planted sites in Northern Ireland.
"While investigations into the source of infection at these sites are ongoing, in all cases to date the infection is believed to have been present on the trees at the time of planting," it said.
It is understood Dard has also identified the chalara fraxinea fungus at Bashfordsland Wood, which is also owned by Carrickfergus Borough Council.
The Whitehead Diamond Jubilee Wood has a 2km path network, a pond and a Commonwealth Tree Avenue planted with 54 copper beech trees to represent the 54 countries of the Commonwealth.