Northern Ireland Fire Service 'needs better leadership'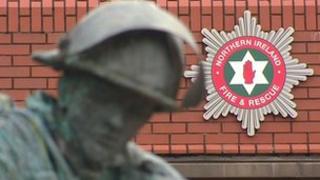 The management of the Northern Ireland Fire Service needs to be improved, according to a new report.
The Northern Ireland Audit Office said better leadership was needed following a number of critical investigations.
They were held into allegations of fraud, unapproved bonuses and failures to deal with staff grievances.
Auditor General Kieran Donnelly said senior managers needed to ensure proper standards of conduct are followed.
"The Fire Service board needs to have in place a fully-staffed and cohesive senior management team sending strongly ethical messages throughout the organisation," he said.
Mr Donnelly used the publication of the Fire Service's annual accounts to summarise the findings of a number of investigations in recent years.
These covered whistle-blower allegations that the Audit Office said were badly handled.
One of the whistle-blowers, former senior accountant Linda Ford, was suspended when she reported financial irregularities, but she subsequently won £20,000 compensation after taking a case against the Fire Service.
The Audit Office said that Miss Ford's suspension "will discourage other potential whistle-blowers."
It also noted there had been problems in handling pay increases for senior staff and issues around a Land Rover provided by a sponsor.
Additionally, the Audit Office said the Fire Service had not handled a potential conflict well in respect of a former manager who ran his own company selling protective clothing.
Mr Donnelly said the Fire Service had a dedicated, hard-working staff but going forward it needed a cohesive senior management team.
"In addition, senior managers need to make sure they have arrangements in place to make clear what is and is not acceptable, to ensure those standards are policed and to identify and deal with breaches," he said.
It was noted that the Fire Service has an action plan in place.