20,000 trees may be destroyed at Whitehead's Jubilee Wood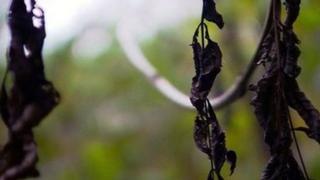 More than 20,000 trees may have to be destroyed at Northern Ireland's only Diamond Jubilee Wood.
They are ash trees planted only last year near Whitehead to mark the Queen's Jubilee.
The trees have been infected with the disease known as ash dieback.
The symptoms of ash dieback have been detected at 37 sites in Northern Ireland.
The disease causes leaf loss and crown dieback in affected trees, which can lead to tree death.
It was first found in the UK at a tree nursery in Buckinghamshire in February 2012, and in Northern Ireland in late November.
Malcolm Beattie, the Chief Executive of the Forest Service says infected trees are all young saplings and were imported.
"They would have been infected at the place they were grown. The disease was not scheduled, it was not listed as a quarantine pest until the the autumn," he said.
A second site of infection has been detected in Carrickfergus Borough at Bashfordsland Wood.
Both woods will remain open, but members of the public have been asked to observe a number of precautionary measures.
These include keeping dogs on a lead, walking on paths and not taking leaves or twigs home.