Conradh na Gaeilge calls for all-Ireland language strategy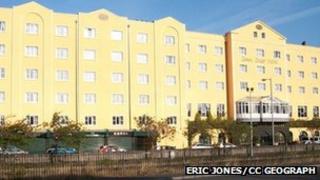 An organisation that campaigns to promote Irish has called on ministers in Belfast and Dublin to implement an all-Ireland strategy for the language.
Conradh na Gaeilge (The Gaelic League) made the call at its annual general meeting on Saturday.
The organisation is holding a three-day event in Newry, County Down.
Its general secretary, Julian de Spáinn, said an all-Ireland language strategy would help to ensure more efficient use of government resources.
He said his organisation "believes that the North-South Ministerial Council (NSMC) should establish an all-Ireland planning unit with representatives from the community and from the authorities to steer the combined, cohesive all-island strategy".
Delegates at the County Down conference are also marking the 120th anniversary of the foundation of Conradh na Gaeilge.
The organisation was set up in 1893 by Douglas Hyde, a Protestant from County Roscommon.
Hyde was a leading Gaelic scholar and writer who campaigned for the preservation and promotion of the Irish language.
However, he resigned from Conradh na Gaeilge in 1915, in protest at its then growing political links to the republican movement.
Decades later, in 1938, Hyde became the first Irish president.
Today, Conradh na Gaeilge is a voluntary organisation that campaigns for the rights of Irish speakers. It also wants a review of the teaching of Irish in the education system.
At the conference in Newry on Saturday, Donnchadh Ó hAodha from Cork was re-elected as president of Conradh na Gaeilge for the third year running.
He claimed that the Republic's 20-year Irish language strategy had been "undermined and diluted" since the Fine Gael/Labour coalition came to power in 2011.
Mr Ó hAodha also said it was "imperative" that Irish speakers in Northern Ireland were recognised as stakeholders in the implementation of the Irish language strategy north of the Irish border.