Two charged after assault on police and hijacking in west Belfast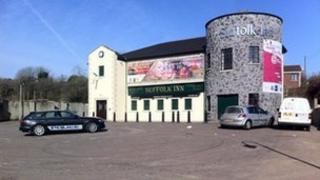 Two men, aged 19 and 27, have been charged in connection with an assault on police and hijacking after a PSNI officer was injured in west Belfast.
The 19-year-old is further accused of causing grievous bodily injury to the police officer by dangerous driving.
The officer sustained chest injuries as he tried to stop a car in Suffolk Inn car park on Suffolk Road on Saturday.
His injuries are not thought to be life-threatening. The men are due in Belfast Magistrates Court on Monday.
The pair have also been charged with motoring offences.
The officer was injured at about 03:10 BST as he tried to open the door of a silver Renault Megane.
Police said it is believed the car had been taken without consent.
They have linked the assault on police at Suffolk Road to an earlier hijacking of a red Vauxhall Corsa in Locan Street, west Belfast.