Smithwick tribunal hearing in Dublin adjourned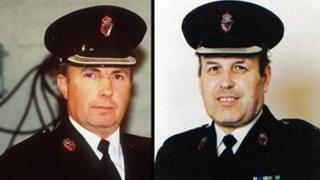 A public inquiry into allegations of collusion in the murders of two policemen in Northern Ireland has resumed and been adjourned for the day in Dublin.
The Smithwick Tribunal is investigating claims that Irish police colluded with the IRA gang that shot the two Royal Ulster Constabulary officers in 1989.
Chief Supt Harry Breen and Supt Bob Buchanan died in an ambush in south Armagh shortly after they left a meeting at Dundalk garda station.
The tribunal was established in 2005.
It started a private investigation in early 2006 but public hearings did not begin for another five years.
The Smithwick Tribunal was one of several public inquiries set up following the recommendations of retired Canadian judge, Peter Cory, in his 2003 report to the British and Irish governments.
Mr Cory was appointed to examine claims of police and state collusion in a series of controversial Troubles killings, and was asked to decide in each case if an inquiry was necessary.
The cases included the murders of the Belfast solicitor Pat Finucane, Catholic man Robert Hamill, Loyalist Volunteer Force leader Billy Wright and Lurgan solicitor Rosemary Nelson.
Of the cases Judge Cory examined, the Smithwick Tribunal was the only one he recommended should take place in the Republic of Ireland.
The inquiry is being chaired by Judge Peter Smithwick.
It was due to conclude in November 2011, but has been granted a number of extensions by the Irish government.