South Armagh searches over Garda Adrian Donohoe murder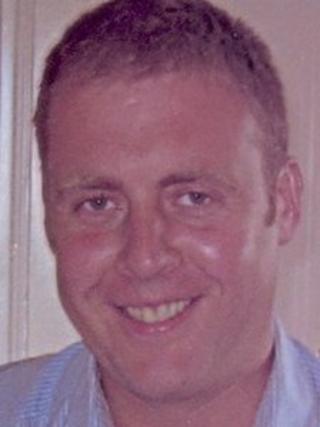 The PSNI have carried out a number of searches in south Armagh in connection with the murder of a Garda (Irish police) officer on 25 January.
Detective Garda Adrian Donohoe, 41, was shot dead during a robbery at a credit union in Bellurgan, near Dundalk.
It is believed the gang responsible travelled into Northern Ireland in a stolen car after the attack.
Gardai have also appealed for information about a white lorry parked in Forkhill, south Armagh, that night.
The HGV lorry was parked on Shean Road in the village at about 21: 45 GMT on 25 January.
In a renewed appeal on Tuesday, gardai said a number of people were seen around the vehicle and it may have broken down.
They want to establish the identity of the lorry driver, anyone who may have been involved in the service or recovery of the vehicle and other motorists driving on the road at that time.
No arrests were reported during Monday's PSNI search operation in south Armagh which police said was in support of the garda investigation.
It is believed a number of houses were searched.
The stolen car used by the gang was found abandoned and burnt out in Fews Forest, outside Newtownhamilton in County Armagh, days after the murder.
Det Garda Donohoe, a father of two, was the first member of the force to be shot dead on duty since the murder of Det Garda Jerry McCabe in 1996.