Liam Adams facing trial on sex charges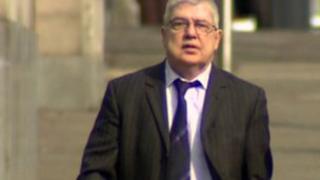 The brother of Sinn Fein president Gerry Adams is alleged to have abused his own daughter while her mother was in hospital giving birth.
Liam Adams allegedly went into his daughter's room and raped her, Belfast Crown Court was told.
Mr Adams denies 10 counts of rape, indecent assault and gross indecency.
The offences were allegedly committed between 1977 and 1983.
The court was told that after Aine Adams told her mother about what had allegedly happened to her when she was a child, the two women went to confront her father at a house in Buncrana, County Donegal in 1987, accompanied by Gerry Adams.
However, Liam Adams denied the allegations.
Opening the Crown case against Mr Adams, from Bernagh Drive in Belfast, the prosecuting barrister took the jury through the ten count indictment.
He said there were many occasions when Aine's mother left the home and it was then, "when the defendant was left alone with Aine Adams, she alleges she was abused".
He said the first incident the alleged victim could recollect was when she was around four years old and living in Westrock Drive in west Belfast.
The next set of three charges of indecent assault, gross indecency and rape, came when Aine was around five said the lawyer.
While her mother was in hospital giving birth to her brother Connor, Liam Adams allegedly went into his daughter's room and raped her.
The prosecution lawyer said that after the family had moved to a property in the Lenadoon area Aine had her own bedroom but her father, who was wearing a sheepskin coat at the time, came into her room and raped her.
Another incident occurred in a bungalow the family had moved to in the New Barnsley area of Belfast in the summer of 1981 when Mr Adams allegedly abused her and forced her to perform a sex act.
The last count, Mr Murphy told the jury, related to an allegation that Mr Adams raped his daughter when she was around 10 in a flat he moved into on the Antrim Road in the north of the city after his marriage broke up.
He said Aine first told her mother Sarah about the allegations in 1986, a short time before the mother and daughter, along with her uncle and Sinn Fein president Gerry Adams, went to Donegal to confront him about his alleged behaviour.
The jury heard that while she also told police about the alleged abuse in 1987 and gave a statement, she told officers she did not wish the matter to go any further and then moved to Scotland.
By 2006, Aine Adams had returned to Belfast and again raised her complaint with the police who arrested her father and interviewed him three times.
Liam Adams denied all the allegations put to him and also denied that his brother, ex-wife and daughter ever confronted him about them.
The trial continues.