Digger used in attempted post office robbery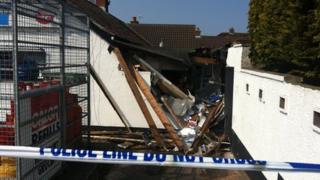 Thieves have used a digger to ram the wall of a post office in Moneyreagh, outside Belfast.
The attack happened at about 02:00 BST on Tuesday, causing substantial damage to a wall and the roof of the property at Hillmount Drive.
The police said it was unclear if anything had been taken.
DUP assembly member Jimmy Spratt condemned the incident saying it was an "attack on the whole community" in Moneyreagh.
"The shop and post office at Moneyreagh are at the heart of the community in the area and are widely used by many people including older people and those from the rural community." he said.
"It is shocking that a digger was used to knock down the annexe at the back of the post office and I understand it hasn't yet been possible to ascertain if the safe has been stolen due to the amount of rubble.
"If anyone sees suspicious activity near a post office, especially in the early hours of the morning, it is imperative they contact police immediately. "