Merchant Hotel, Belfast: Property fall hits profits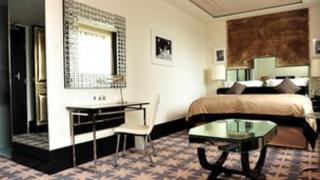 The company that owns the five star Merchant Hotel in Belfast made a loss of more than £11m in 2012 due to a big fall in the value of the hotel buildings.
However, Merchant Hotel Ltd had a solid trading performance with turnover rising to more than £10m, which delivered a trading loss of about £135,000 after bank interest payments.
A note in the accounts states that a review of land and buildings was conducted during the year "in response to the current economic climate".
That saw the value of the hotel fall from £34m to £22m which made for a paper loss of £11.8m.
The Merchant's main building is the 19th century headquarters of Ulster Bank. A £16m extension was opened in 2010.
Flag protests
The directors say the firm's 2012 performance was "satisfactory" and that the commercial environment would "remain competitive" in 2013.
Hotels in Belfast reported increased occupancy rates in 2012 partially due to the opening of the Titanic Belfast visitor attraction.
However, hospitality businesses in the city said they suffered during the Christmas season due to disruption caused by the union flag protests.
The Merchant is owned by Bill Wolsey who also controls a chain of pubs.
The top firm in his group of companies, Seanachai Ltd, reported a loss of £1.3m in 2012.