Jet2 resumes flights from Belfast International Airport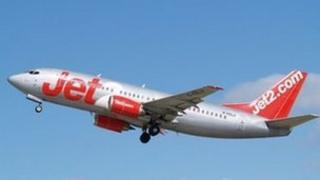 The airline Jet2 is to resume flights at Belfast International Airport on Wednesday, after it suspended its operations due to safety concerns.
On Monday, the company temporarily stopped flying from the airport due to its runway maintenance programme.
It was the only airline to do so and the Civil Aviation Authority said it was confident the airport was safe.
In a statement on its website on Tuesday night, Jet2 said it would now use the airport's alternative runway.
Apology
The company said it had come to an agreement with staff at Belfast International to operate all Jet2 flights from the north/south runway while the main runway undergoes maintenance.
The statement said "This decision follows close consultation with the airport and a detailed safety assessment conducted today (Tuesday). All our customers due to travel from Belfast International this week should go to the airport as normal.
"We would like to apologise for the inconvenience this has caused however the safety of our customers is of paramount importance and we will not operate from Belfast International Airport's main runway until the resurfacing has finished," the company added.
On Monday, Belfast International said it would investigate Jet2's concerns, but no other airline has reported any issues with the runway maintenance programme.
Disrupted
The airport said one Jet2 aircraft had reported engine-related problems on three occasions, but there was no conclusive evidence connecting this with the runway.
A programme to re-surface a runway has been disrupted because of recent weather.
On Monday, Jet2 switched flights to George Best Belfast City Airport and City of Derry Airport instead.