Meeting held in Crumlin over G8 summit security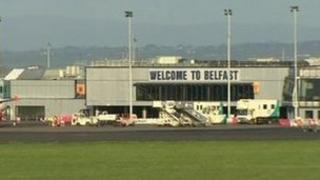 A public meeting was held in Crumlin on Tuesday night to discuss the impact of security for people living close to Belfast International Airport during the G8 summit in June.
The summit is being held just outside Enniskillen in County Fermanagh.
World leaders will fly into the airport and travel on to the Lough Erne Resort for the summit.
About 100 people attended Tuesday's meeting, which was organised by the police.
"Minimum disruption - two big words, that's what we keep hearing," local resident Tracey O'Sullivan-Gribbon said.
"Let's hope that's just exactly what's going to happen for ourselves and the children of all the local communities."
The police previously wrote to people living near the airport to inform them about the huge security operation.
The PSNI has also launched G8 Facebook and Twitter sites to provide the most up-to-date information.
PSNI Chief Supt Henry Irvine said: "We're obviously very conscious of the concerns people have.
"We're very keen that we reassure the general public that when G8 comes, our operation will cause the least disruption to their normal lives."
A number of other public meetings will be held over the coming weeks and months.