Pair given life sentences for Michael McIlveen murder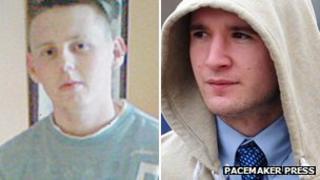 Two Ballymena men have been given life sentences for the murder of a schoolboy seven years ago.
Fifteen-year-old Michael McIlveen died from brain injuries the day after he and two friends were attacked in 2006.
Christopher Francis Kerr, 26, from Carnduff Drive and Aaron Cavana Wallace, 24, from Moat Road, pleaded guilty at the trial on Wednesday.
The tariff for the time they will serve before they can be considered for parole will be set at later date.
The pair were convicted of the sectarian murder of the teenager in 2009 but had their convictions quashed on appeal.
The Court of Appeal ordered a retrial and that trial was due to begin when their lawyers asked for the charge to be put to them again. Kerr and Wallace then pleaded guilty.
Michael McIlveen, a Catholic schoolboy, and known to family and friends as Mickybo, had been out with a friend, in May 2006, when they were chased by a gang.
They were chased to an alleyway beside a car park in Ballymena where they were attacked.
Michael McIlveen was beaten with a baseball bat and died a short time later from head injuries. The motivation was sectarian.