Presbyterian moderator meets Parades Commission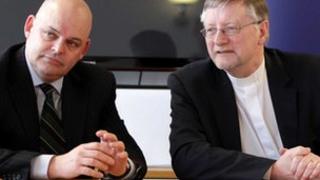 The outgoing moderator of the Presbyterian Church has said the Parades Commission was the "legally constituted" body for dealing with parades.
Reverend Roy Patton made the comment after a meeting with the commission's chairman Peter Osborne on Tuesday.
Rev Patton's remarks come at a fractious time for the Parades Commission in unionist communities.
Mr Osborne said the body was "committed to outreach" on all sides.
In February, Paul Givan of the Democratic Unionist Party (DUP) told Mr Osborne that the body did not have his support or his party's support.
And members of the Orange Order and Royal Black Institutions met with Secretary of State Theresa Villiers on Monday to raise concerns over perceived imbalances in the Commission's treatment of parades, the News Letter has reported.
On Tuesday, delegates from the Presbyterian Church led by Rev Patton met the Parades Commission at their offices in Windsor House.
"The Presbyterian Church has always said that the best way to resolve parades is by local agreement, and in the absence of that the Parades Commission is the legally constituted body to deal with the matter," Rev Patton said after the meeting.
Mr Osborne said: "As we approach a key part of the summer we are committed to outreach both at a local and regional level, and we intend to meet with other key stakeholders.
"We need everyone in civic society choosing to play a positive role, including politicians, parading organisations, residents groups, as well as those in the faith, business and local communities."
A Parades Commission spokesperson said a "wide range of issues surrounding parading" were discussed at the meeting.
In June, Rev Patton will come to the end of his tenure and will be replaced by the new head of the Presbyterian Church in Ireland, Reverend Rob Craig.