Seamus Mullan to forfeit house in Londonderry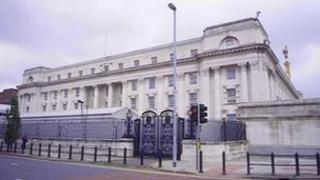 A man convicted of killing a police officer is to forfeit a house in a High Court case over alleged cigarette-smuggling activities, it has emerged.
The Serious Organised Crime Agency brought the civil recovery proceedings against 58-year-old Seamus Mullan.
It was claimed he had built assets by contraband tobacco distribution, money-laundering and mortgage fraud.
After a four-year legal battle, Mullan was ordered to relinquish a property in Feeny, County Londonderry.
The agency had originally sought to confiscate two properties and the contents of a bank account, claiming they were the proceeds of crime.
Mullan, formerly of Lisnascreghog Road, Garvagh, County Londonderry, was released from prison under the terms of the Good Friday Agreement in 1998.
Cigarette smuggling
He had been sentenced to life imprisonment for the murder of Willis Agnew, an off-duty RUC officer shot dead by the IRA in June 1985.
Despite working as a farmer since then, it was alleged that he became involved in large-scale cigarette smuggling.
SOCA had obtained a property freezing order after the case was referred to it by the PSNI in 2009.
During the hearing, the judge was told Mullan's suspected activities earned him the nickname "the fag man".
According to SOCA's lawyers, Mullan, who also has convictions for robbery and blackmail, declared no income between 1998 and 2005, claiming incapacity benefits.
At one stage a failed attempt was made to have the case stayed on the grounds that a medical condition prevented him from participating in proceedings.
Consent order
A head injury suffered on his farm had left him unable to give proper instructions to his legal team, it was claimed.
A consent order was finally obtained at the High Court in Belfast on Monday.
A spokeswoman for the agency said: "In its civil recovery application, SOCA submitted that Seamus Francis Mullan had derived the majority of his assets through unlawful conduct, namely cigarette smuggling, money laundering, and mortgage fraud.
"Mr Mullan agreed to settle SOCA's civil recovery claim by handing over a house in Feeny, County Londonderry."
But Mullan's lawyer, Danny McNamee, said the agency had wasted "tremendous" amounts of money in bringing the case.
He said: "This was a situation where they will have paid hundreds of thousands of pounds in legal and investigative expenses, and all they have taken is a council house with a large mortgage on it."