New health centres for Lisburn and Newry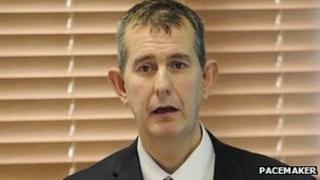 Lisburn and Newry are each to get a new health centre, costing a total of around £80m.
The facilities will allow more people to be diagnosed and treated in the community, closer to home.
While the centres will be equipped and staffed by the NHS, the buildings will be funded by the private sector.
Under plans to transform how local care is delivered, people will be expected to attend their local health centre more as opposed to the local hospital.
Hospitals are more expensive to run and often difficult for older people to access.
Holywood Arches health centre in east Belfast and the most recently built centre in Portadown are typical of what will be springing up across Northern Ireland.
Designed to be more user friendly, the centres are hubs which also house speech and language therapists, health visitors, community dentistry, physiotherapy and outpatient clinics.
For some it could mean a one stop shop when it comes to health care.
Dr Nigel Campbell, a GP in Lisburn, says it is a positive move.
"Take for example someone with a chest infection, if they come to the new centre they will have their chest x-ray done there, other tests carried out and hopefully treated.
"They will by-pass the hospital relieving some of the pressure as they are bursting at the seams."
The £80m to actually build the two centres will be financed by the private sector.
They will be financed through a mechanism known as third party development (3PD) which involves a partnership arrangement with a private sector company.
Speaking to the BBC, the health minister, Edwin Poots said there are limitations on the capital funds.
"While it is private funding this is not private health care. We are not experts at building but we are experts at delivering health care," he said.
"I am of the view that there will be significant benefits to be gained by active involvement of the private sector in delivery of these two facilities.
"I have therefore decided to progress both these projects through a form of revenue financing known as third party development to bring these two projects to fruition as soon as possible.
"3PD, as it is known, is an approach that has been widely used throughout the United Kingdom. "
Mr Poots said the procurement process will start soon.
One of the new centres will be based in the minister's constituency. When asked by the BBC if this was a coincidence a spokesperson said in the case of Lisburn it was considered that the development might be linked to the Lagan Valley hospital and would have greater impact than a smaller project.
As set out in the Transforming Your Care document, the delivery of services is undergoing a massive overhaul.
For that to work, hospitals and communities will have to work together.
The public will also have to accept the role of the private sector in some areas of the health and social care sector.