Clients repaid fraction of Belfast investment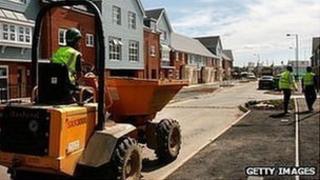 Clients of a Dublin stockbroking firm are to be repaid just £33,000 of £30m they invested in a disastrous property deal in Northern Ireland.
The details are contained in the accounts of GSB Millmount Homes plc, a company set up by Goodbody stockbrokers during the Irish property bubble.
It raised the money for a joint venture with house-building group Taggart to develop a site in east Belfast.
When the Taggart group collapsed in 2008 the site was repossessed.
Initially repossessed by the former Anglo Irish Bank, it eventually came under the control of the Irish government's National Asset Management Agency (Nama).
The accounts state that the joint venture is now in liquidation and that in September 2012 the liquidator made a final dividend payment of under £33,000.
An additional £3m of uninvested funds had already been returned to clients.
The Taggart joint venture was not the only Goodbody investment in Northern Ireland.
It raised a further £27m of client funds via a company called GSB Northern Ireland plc.
This money was invested in joint ventures with the Orana property group - most of the properties in these ventures have been effectively repossessed by Ulster Bank.
They included a 36-acre site at Crescent Link in Londonderry which was refused planning permission for a supermarket development last year
The value of the investments have been written down to nil and a note in the recently filed accounts states that GSB Northern Ireland will be subject to "an orderly wind-up" in the coming year.
Goodbody was owned by Allied Irish Banks during the property bubble but was sold to financial services group Fexco in 2010.