Belfast on the move: Second phase of city centre roadworks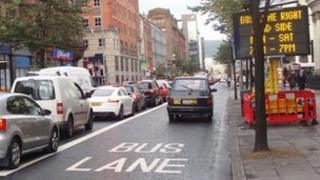 Motorists travelling through central Belfast from Friday have been warned to allow extra time for their journeys as further road works begin.
It is part of the second phase of the Belfast on the Move scheme.
Further bus priority measures will be introduced on the west side of Belfast city centre.
A new bus lane will be in operation on College Avenue and College Square East between Millfield and Wellington Place from Friday 12 April.
Regional Development Minister Danny Kennedy said: "As further resurfacing works are completed in the area, amended road markings will be laid.
"I would remind motorists to be aware of the new traffic management arrangements as they come into operation and to pay extra care and attention as they become used to them."
Detailed
Following the resurfacing of Grosvenor Road between Durham Street and Fisherwick Place, only one lane will be available for eastbound traffic turning left into Fisherwick Place.
In addition, the lane markings on Howard Street between Upper Queen Street and Fisherwick Place will be amended to improve the flow of traffic.
This is expected to be in operation from Monday 22 April.
A Department for Regional Development spokesperson said: "In order to highlight the bus lanes in the city centre, which will operate throughout the working day, a narrow band of red surfacing will be added over the coming weeks."
When new bus lanes opened in May Street in September, under the first phase of Belfast on the Move, motorists and city centre retailers complained of severe traffic jams during the rush hour.
Amid the controversy, a multi-agency group was set up to tackle the congestion and address the concerns it had raised.
As part of the programme, cycle paths with be created on Ann St and Victoria St.
Further road works are also planned in the spring for Wellington Place, Donegall Square North, Donegall Square East and Chichester Street.
The second phase of Belfast on the Move is due to be complete by mid-June 2013.