Artigarvan father tells of sinking sand fears for son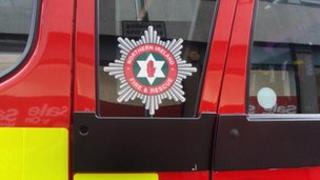 The father of a teenager, who got stuck in sinking sand in County Tyrone on Tuesday night, has said he had feared he was going to lose him.
Daryl Finlay, 14, was rescued by firefighters during the incident at Artigarvan.
Richard Finlay said it was a "frightening experience" and that his son remained shaken up.
Neighbours and friends had been trying to pull Daryl out with ropes when the sand suddenly came up to his waist.
Mr Finlay said Daryl had become stuck after taking a short-cut.
He said he was called at about 20:30 BST and tried to rescue his son with the help of two friends.
"We got ropes and straps out the back of their jeep to tie round him and we tried to pull him out but we got nothing, we couldn't budge him," Mr Finlay said.
"The fire brigade at that stage was on its way.
"It was very scary, because he was up to his waist at this stage and I was scared of him going on down or going head-first into it.
"He was calm, but at the same time he was scared-looking and he was trying to keep himself up."
He said he had never encountered anything like sinking sand in the area.
"I'd never heard tell of it in this area," Mr Finlay said.
"I've seen it on programmes on TV, but I never thought I'd see it in real life, face-to-face like that.
"Daryl's still very shaken, he hasn't really appeared out today and hasn't spoken to anybody."
He praised the firefighters who had rescued his son.
"The fire brigade and everybody else were very good at the time and explained what was going on," Mr Finlay said.