Northern Ireland organ donors up by 81.8%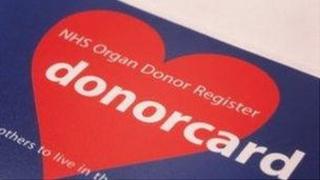 There has been an 81.8% increase in deceased organ donors in Northern Ireland over the last five years.
Five years ago the NHS was set the target of increasing by 50% the number of people in the UK who donated their organs after death.
The challenge was set by the Organ Donation Taskforce.
In 2007/8 there were 22 donors in Northern Ireland while in 2012/13 there were 40.
Health Minister Edwin Poots said the significant increase in Northern Ireland "demonstrates the instinctive giving nature of the people".
Ulster Unionist MLA Jo-Anne Dobson, whose son, Mark, had a kidney transplant four years ago said the increase in donations was tremendous news but more still needed to be done.
"I currently have a private member's bill at Stormont going through the process and that would give everyone the chance of an organ," she said.
"This is brilliant, I love to hear of more people getting organs, but we need everyone to have that chance.
"We're going in the right direction, we just want everyone to have that."