Bereaved woman's fears over baby items from shop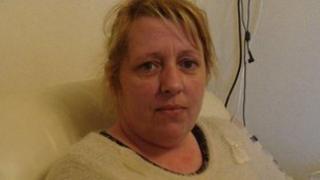 A Strabane woman, who lost her baby a few weeks ago, has said she is "devastated" because she cannot get hold of items she had bought for the child after a business closed.
Linton and Robinsons sold furniture, hardware and agricultural supplies but closed on Easter Saturday with the loss of 36 jobs.
Frances McColgan lost her baby, Isaiah, on 26 March.
She said items she had left over at the store would be of comfort to her now.
The liquidator said her case would be dealt with as quickly as possible.
Ms McColgan had paid for several goods including a pram, car seat, bath, blankets, a cot bed and mattress.
She said they were one of the last links to the baby she never got to know.
"We feel that at this moment in time, there's nothing more that we could have possibly lost.
"I lost my mother on 22 February, we lost our son on the 26 March, if I had those items back it would give me some comfort. I just cannot see a way forward at the minute.
"Before his burial we went to Linton and Robinsons and were told everything was going to be secure enough.
"I think when you buy an item and it's paid for it should be legally yours even though the firm does go into liquidation."
She said it was important to get the items so they could "try again".
"We put so much into the items we picked for our child. It would be like having a part of our son back to get them items back. It is very tough. I have more down days than I would have up days."
She said she had been sent emails from the company but would "have to wait just like everybody else, at the end of that queue".
"I'm just in the list like everybody else. I'm sure there's other people out there, probably mothers out there, who have put their maternity grants into that as well.
"There's people out there with wedding lists, people have paid for suites of furniture as well. There's people have gift vouchers.
"It would be great to be able to get those items. It's hard to explain. The child was never in the pram but to get the stuff back means you could start again."
Ian Finnegan of liquidators ASM Accountants said in a statement: "I am aware of the issues surrounding customer deposits and I have been made aware of the particular case.
"Due to the volume of enquiries we have set up the specific email for people. All customer enquiries will be dealt with as quickly as possible.
"This will, however, require time and patience. Regarding the specific customer to which you refer I will personally ensure this is dealt with as quickly as possible to minimize the ladies distress."