Ireland communion and confirmation funds end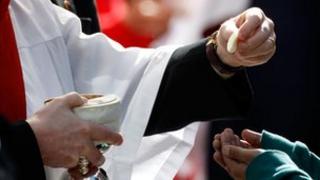 The Republic of Ireland is to end grants for the religious rites of first communion and confirmation.
The Department of Social Protection (DSP) has confirmed that funds will no longer be available to help families in need with clothing costs.
In 2012, the department reduced the grant from €242 to €112.
Families in need can still apply for emergency needs payments but these cannot be used to cover religious ceremonies.
More than €3.4m (£2.9m) was paid in communion and confirmation costs in 2011 and €1.5m (£1.3m) was paid out last year.
A review of exceptional needs payments was carried out by former community welfare service staff for the DSP.