Made in Belfast movie starts Belfast Film Festival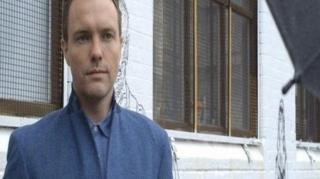 The first film by Northern Ireland writer and director Paul Kennedy will premiere to two full houses in Belfast on Thursday night.
Made in Belfast, the opening film of the 13th Belfast Film Festival, stars Fermanagh actor Ciaran McMenamin.
It was shot on a shoestring budget, mainly in Belfast, over two weeks in August 2012.
Last year's festival opener, Good Vibrations, was a critical success and went on general release last month.
Gary Lightbody of Snow Patrol has production credits on both films.
In Made in Belfast, McMenamin plays Jack Kelly, an author who returns to Belfast for a family funeral after eight years away.
The people he left behind at home are less than pleased to see him because he exposed their secrets in his debut novel, also called Made in Belfast. Jack must do what he can to mend relations in a very short time.
The film was mainly shot in Belfast and was part-funded by Northern Ireland Screen. It is the first feature film made by KGB Screen.
Mr Kennedy has said the film came out of a Northern Ireland Screen-funded workshop. The course taught him how to make a film with a 'micro-budget', a very small amount of money.
The premiere screenings are being held in two city venues to meet demand.
Attitude
The Belfast Film Festival will host more than 100 films over the next 11 days, in venues including the Movie House on Dublin Road, the Black Box, the MAC and the Waterfront Hall.
There will be a screening of school classic the Breakfast Club in the library at Belfast Inst boys' school, prison-themed films at Crumlin Road jail, and a horror film in Ormeau Park.
Film critic Mark Kermode will talk about his favourite big-screen masterpieces in an event on Friday evening.
"We are celebrating becoming a teenager, so attitude, experimentation and adventure are a must," festival director Michele Devlin wrote in the programme of events.
"The programme is packed with well established, lesser-seen and exciting first time directing talent," she said.
"There's a lot to look forward to."