£7.5m owed in fines in Northern Ireland after landmark case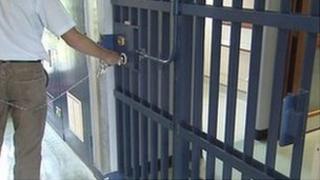 At least £7.5m in fines remain unpaid in Northern Ireland, the BBC can reveal.
A recent landmark legal ruling means that people will currently not be arrested and sent to prison for not paying their fines.
Until last month, an arrest warrant or money warrant was issued automatically for anyone who did not pay a fine and they were taken to prison.
However, a judicial review in March found the practice was unlawful.
It was felt by the judges that people who failed to pay fines should have been brought before a magistrates court instead of automatically being sent to prison.
Until the legislation is altered, the courts have had to withdraw all outstanding money warrants and therefore the PSNI will not be making any arrests.
Arrest warrants issued to 20,273 people, who together owe more than £7.5m, have now had to be withdrawn.
So there is a big question mark as to how or when this money will be recovered.
'Consequences'
Ciaran Mulholland, of Joe Mulholland Solicitors, said: "This has highlighted the unfairness of the procedure where defendants are sent to prison for a default period without any involvement of a judge.
"The consequences of this ruling are that the court service will now have to review their procedures with immediate effect.
"There are also possible civil implications for those imprisoned as a result of this procedure."
Any person who has been previously arrested for not paying their fines and who has spent time in prison may now be able to claim for damages from the PSNI or the Northern Ireland Courts and Tribunal Service.
In a statement, the Lord Chief Justice's Office said: "The Court of Appeal found that the practice and procedures for dealing with non-payment of fines failed to comply fully with the legislative provisions.
"The Judicial Studies Board has organised an event for the judiciary to provide guidance on the revised procedures prescribed by the Court of Appeal."
A Department of Justice spokesperson said the department and the NI Courts and Tribunals Service were "assessing the implications of the judgment and the implications for sentencing, fine default and fine enforcement reform".
"It is likely that significant changes will be required regarding how judges decide and impose default periods for unpaid fines which may require legislative reform," a department of justice spokesperson said.
"The implications are being addressed so as to allow relevant cases of fine default immediately impacted by the judgment to be brought back to court."
'Range of powers'
The Northern Ireland Courts and Tribunal Service said in a statement: "The Department of Justice has consulted on a range of measures to reform the way in which fines are collected and enforced and is working to establish a new fine enforcement service within this assembly mandate.
"It's intended the new service will have a range of powers to collect and enforce fines."
Delivering judgment in the case last month, Lord Justice Girvan said: "The system as currently operated and as applied in the instant cases, breached the law in a number of respects.
"There has been no hearing before a judicial officer before a warrant of commitment is currently issued.
"The automatic computer-generated issue of warrants of commitment is not subject to judicial oversight."
He also held that a judge should be involved in determining the appropriate form of enforcement and the length of period involved.
"Commitment is not inevitably or always the most appropriate form of enforcement, particularly bearing in mind that imprisonment should be a last resort," he said.
'Not lawful'
"The particular circumstances of the individual case must be properly taken into account.
"For these reasons we conclude that the warrants as issued were not lawful warrants of commitment."
The judge, sitting alongside Lord Chief Justice Morgan and Mr Justice Treacy, said the PSNI was clearly unhappy with the role imposed on it of pursuing offenders who have the option to pay a fine rather than face imprisonment.
He said that, unlike the rest of the UK, no civilianised fine collection or enforcement service existed in Northern Ireland.
A further hearing will take place next week.