Abortion on Sinn Fein conference agenda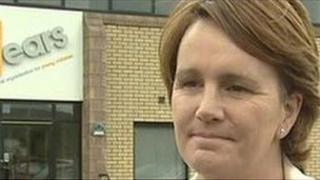 Hundreds of Sinn Fein delegates are gathering in Castlebar, County Mayo, this weekend for the Ard Fheis or party conference.
Issues to be debated range from British cultural symbols in Northern Ireland to abortion, an issue that has dominated the headlines in the Republic of Ireland this week.
Indeed, the case of Savita Halappanavar, whose inquest took place this week, has posed challenges for all parties in the Republic.
She died at a Galway hospital last October following a miscarriage amid controversy over her treatment and complaints she was denied an abortion on the basis that Ireland was "Catholic".
Her death re-ignited calls for the Irish government to finally legislate on abortion following the supreme court ruling on the X case in 1992.
This would make clear abortion was permitted where a mother's life was in danger, including from suicide.
When Sinn Fein pressed the issue in the Dail, the Irish parliament, last autumn, one of its TDs, Peadar Toibin, from Meath West, rebelled and refused to vote with his party.
He was censured by Sinn Fein.
'Failed to legislate'
Sinn Fein MLA Caitriona Ruane outlined her party's position in an interview last month for the BBC programme The View.
"Successive governments have failed to legislate when a 13-year-old child was raped - failed to legislate, despite the fact the Supreme Court told them they should legislate," she said.
"Sinn Fein is opposed to abortion, but supports termination in the case of rape, sexual abuse or where a woman's life is in danger.
"That's our position in the south of Ireland - that's our position in the north."
Sinn Fein's Ard Chomhairle, or party executive, has tabled a motion at this weekend's conference calling on the Irish government to legislate for the X case - a piece of legislation currently being prepared.
In one recent Dail debate Cork Sinn Fein TD Jonathan O'Brien said his party was pro-life.
"We are opposed to what is known as abortion on demand - it is not a term that I like," he said.
But, like in other parties, there are those with differing views.
Sinn Fein Dublin TD Dessie Ellis has made no secret of his personal view that the party's abortion policy doesn't go far enough to allow for choice.
And branches in Londonderry and Dublin have tabled a resolution for debate calling for women to have that right.
In an interview last month on abortion, Caitriona Ruane told the BBC she would not be speculating on what the party might do this weekend.
Political blogger Alan Meban is a keen observer of party conferences.
He doesn't expect any dramatic shift this weekend, with the party executive's motion most likely to be adopted.
But one resolution did catch his eye.
Clamping down?
"The simplest of the resolutions is that all Sinn Fein members be allowed to articulate and vote on the issue of abortion according to their conscience and that's signed by five different groups," he said.
"I think it was signed by two last year, so that's a bit of an increase."
Is that an indication that Sinn Fein is clamping down on members speaking out?
"I don't think they enjoy members speaking out on this issue at all," he said.
Mr Meban claimed Sinn Fein was uncomfortable with the issue, but that younger members wanted a change in abortion policy.
Dr Eoin O'Malley, who lectures in politics at University College Dublin, suggests Sinn Fein has the added burden of managing two constituencies on this issue.
"That is a problem for Sinn Fein because it has, in the north, a party that is probably more mainstream and more conservative Catholic," he said.
'Difficult position'
"And also within the Republic you have these kind of young disaffected voters, but you also have rural republicans who would be also quite conservative Catholics.
"So it is in a difficult position."
Indeed, Bernie Smyth from Precious Life has sharply criticised Sinn Fein's recent decision at Stormont to block a bid to stop abortions outside the NHS.
She is also critical of Sinn Fein's call in the Republic for legislation on the X case, insisting the change is unnecessary.
She claims campaigners will protest at the conference calling on Sinn Fein to "uphold the rights of the unborn child".
Sinn Fein declined an interview on abortion, saying it didn't want to discuss a single issue ahead of its Ard Fheis that included 250 resolutions for debate.