Children of the Good Friday Agreement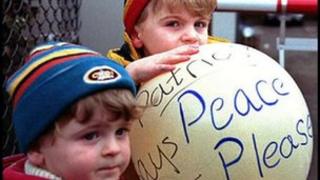 Fifteen years ago this week, Alex Huston's mother took him and his little brother Patrick to the peace talks at Castle Buildings.
Alex, then aged five, and his brother each carried a balloon with a message for the politicians: "Peace please!"
Their mother Felicity was a member of the Women's Coalition, which was one of the smaller parties tasked with negotiating the deal.
Alex is now a student of politics, on a gap year before attending Nottingham University this autumn. He is an aspiring Conservative politician - so, what does he think of the deal that emerged on Good Friday 10 April 1998?
"I think the Good Friday Agreement was the worst deal we could really get - but it was better than the alternative," he says.
He is glad he escaped growing up with the Troubles but said one difficulty was the on-going sporadic violence.
"There has always been that problem, that the terrorist groups on both sides, have always had the threat that 'oh well if we don't like this any more we can just go back to blowing everyone up'."
Alex complains of flawed political structures involving mandatory coalition and no opposition.
"Our system is just not democratic. It doesn't really matter who you vote for in Northern Ireland.
"If you vote for the top five parties, it doesn't matter which one it is because they are all in power together. They all make these promises and then they all break them together."
So what would he say to the politicians if he could go back to Castle Buildings 1998?
"Get an opposition. I could have written that on the balloon - instead of Alexander says peace please - Alexander says opposition please."
At Ardoyne Youth Club in north Belfast, one of the areas worst hit during the Troubles, teenagers are preparing to go to the United States on a cross-community trip that involves them working in soup kitchens in New York.
The boys, who were born around the time the Good Friday Agreement was negotiated, have little sense of what is in the document.
Fionntan, aged 16, said he doesn't know much about it other than it was a deal between unionists and nationalists, while Kieran, also 16, said it led to the release of prisoners such as loyalist Michael Stone.
"The prisoners of war were let out of jail, trying to create peace," he said.
Their friend, Brendan, 15, had no knowledge of it. But all three were aware they had grown up without the violence that blighted the lives of their parents and grandparents.
"I'm glad I grew up the way I did instead of being scared of being shot or beaten up," said Fionntan.
Brendan said it meant he was able to go out and meet people from other communities.
'A sacrifice too far'
In Down High School, Downpatrick, students, some of whom are studying politics, know more about the deal. But most had little sense of the Troubles, other than what they heard from their parents.
Jos, 14, recalled how his mother had owned a shop on Royal Avenue and how a bomb had exploded near there, killing two soldiers.
"It's just weird knowing what happened and people have died there," he said.
"It's just something you don't want to happen again."
His classmate, Lindsay, said he had heard of the horrors from his family.
"It's a reality that I can't imagine experiencing," he said.
They are generally supportive of the Good Friday Agreement, as is 16-year-old Fiona whose father was a key player behind the scenes in helping to forge the deal.
She said the compromise between unionists and nationalists was the best solution for everyone.
Seventeen-year-old politics student Zara said she does not agree with every aspect of it, such as the prisoner releases, but adds that no one really was happy with all of it.
"It was needed at the time. I don't think (the) violence could have gone on any longer," she said.
Samuel, also 17, like Zara is studying politics, but takes a very different view.
"For unionists it was a sacrifice too far," he said.
Samuel criticised the early release of prisoners, the lack of opposition due to mandatory coalition and the appointment of the Patten Commission, which ultimately led to the RUC being replaced by the Police Service of Northern Ireland.
He said the deal was not balanced enough in favour of unionists, claiming as evidence the current protest over the decision to stop flying the union flag at Belfast City Hall every day.
Fiona was dismissive of the flags protestors - but said it may be time for more talks to renew the deal as the flags protest is an example of growing instability.
"I think that now (the agreement) is not as effective as it used to be... I think now it needs to be improved upon. I think something needs to be done again."