Donagh child abuse: McDermotts 'may have further victims'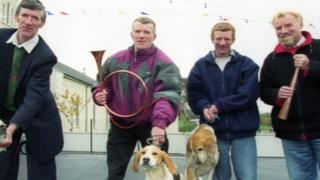 A child protection expert has said he fears more victims of paedophile brothers in County Fermanagh have yet to come forward.
Jim Gamble was speaking after several victims told the BBC of sexual assaults by the McDermott brothers in Donagh.
On Thursday, Johnny McDermott from Moorlough Road was jailed for indecent assault and gross indecency of an eighth victim.
Mr Gamble said the brothers "were the stuff of nightmares" for children.
"These brothers, the McDermotts were, in essence, the stereotypical monsters, which makes it all the stranger that it was hidden," he said.
"Having looked at this case, I do not believe that we have identified all of the victims.
"The offending pattern, the offending history in this case means that those vulnerable children that were accessed or engaged by these brothers would have been in a very difficult situation. They seem to me to have been prolific."
Three other McDermott brothers were originally charged, but John McDermott is the only one to have stood trial.
Two other brothers, James and Owen Roe McDermott, were deemed unfit to plead in 2010 and returned to their home in the village, living in the same community as some of their victims and their families.
Following a public outcry, they admitted themselves voluntarily to hospital where they remain.
A fourth brother, Peter Paul McDermott, hanged himself at the start of his trial.
John McDermott, 63, from Moorlough Road in Donagh, is already serving over nine years for the abuse of seven children over a 35-year period.
The judge said he was a "predatory sex offender" who targeted children.
The survivors said they were promised that new legislation would be brought in to close what they considered to be a legal loophole.
The feel that the justice system let them down and that might discourage other victims from coming forward to the police.
Last year the PSNI went to court and was given the power to approve where James and Owen Roe McDermott can live, which means they are unlikely to be allowed to return to Donagh.
Some victims of the McDermott brothers have expressed disappointment that James and Owen Roe were deemed unfit to plead in 2010 for mental health reasons.
On Friday, Northern Ireland justice minister David Ford denied there was an unacceptable delay in addressing the law which allowed them to return to Donagh.
He said:"I don't think people were promised anything other than 'we are working as fast as we can to get the law right'.
"It would be pointless to introduce something that was not the right law, we have to get it right.
"We have to get it right not just looking at this one issue, but about a range of issues affecting mental capacity matters."