Spring blizzard: NI animal death toll exceeds 17,000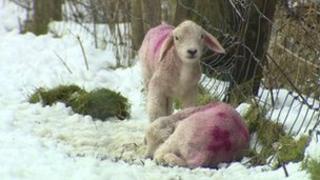 The number of animal carcasses collected from farms in Northern Ireland following last month's heavy snow has risen significantly to 17,633.
The latest death toll was confirmed by Stormont's Department of Agriculture and Rural Development (Dard).
The figure includes 17,098 sheep and goats and 535 cattle.
Thousands of animals were stranded in counties Antrim, Down and Londonderry after days of severe weather. The spring blizzard began on 21 March.
It produced snow drifts of up to 18ft (5.4m) in some rural areas, and many families were confined to their homes for days due to impassable roads.
It meant farmers could not reach their animals to give them food and shelter, and many sheep and newborn lambs were later found buried in the snow.
The Stormont Executive has already agreed an aid package worth up to £5m to help farmers who have suffered financial loss due to fallen livestock.