The Voice entrants Conor Scott and Leah McFall talk nerves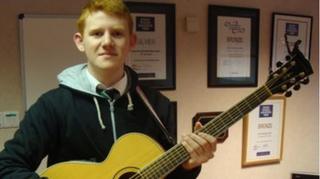 A north Belfast schoolboy will appear on Saturday night's BBC1 talent show The Voice.
Conor Scott, 18, will sing to the backs of four "big massive red chairs" in the hope that one of the four judges in them will turn around to signal interest in working with him.
Also appearing will be Newtownabbey woman Leah McFall, 23, who told BBC Radio Ulster's Nolan Show that she "blacked out" while in the stressful situation.
Watching the programme will be like experiencing it for the first time, she said.
"Walking up to the microphone seemed to last about six hours and then everything that happened after that seemed to take about two seconds," she said.
Conor described the "nerve-racking" experience to the Good Morning Ulster radio programme on Friday.
"You go up and you're in this room, the lights are off and there's complete silence - like Mastermind," he said.
"Everybody's looking at you apart from these big massive four red chairs. Then you sing a song, hoping that one of them turns round."
While in England for auditions, Conor bonded with another contestant Andrea Begley, who has only 10% vision, over their Northern Irish accents.
The show was pre-recorded in December but Leah and Conor were not allowed to say publicly whether they got through the round or not.
Conor is an A Level student at St Malachy's College while Leah, a past pupil of Antrim Grammar School, lives in London now.
The Voice is on BBC One at 18:45 BST on Saturday. It is judged by singers Sir Tom Jones, will.i.am, Danny O'Donoghue and Jessie J.