Martin McGuinness in ard fheis attack on dissident republicans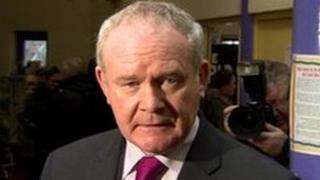 Sinn Fein's Martin McGuinness has asked of dissident republicans "where were they, when there was a war".
The deputy first minister made the diversion to his set speech at the Sinn Fein annual conference on Saturday.
Mr McGuinness said when he watched news reports of dissident parades involving men in their 30s, 40s and 50s he was "mystified" as to where they had been previously.
The ard fheis (conference) is being held in Castlebar, County Mayo.
Mr McGuinness also said in the coming months, the party would review the operation of the political institutions in Northern Ireland.
"We will consider all proposals which have the potential for enhancing the efficiency and effectiveness of government," he said.
"Among these we include the size of the assembly, the number of government departments and the north-south institutions and joint working.
"Inclusivity and power-sharing are the bedrock of the political institutions in the north. Any proposals for change will be meticulously proofed against both."
Mr McGuinness again criticised Prime Minister David Cameron during his speech.
"He had no answers on the mess his government has made on the issue of corporation tax and he had even less to say on the issue of what has become known as welfare reform," he said.
"Let me be clear, Sinn Fein will resist this onslaught on the most vulnerable. We will not tolerate the introduction of a 'bedroom tax'.
"We will deploy a petition of concern on this clause if it is brought to the floor of the assembly."
Sinn Fein leader Gerry Adams will address about 2,000 delegates at the conference later.