People with Parkinson's 'discriminated against' in Northern Ireland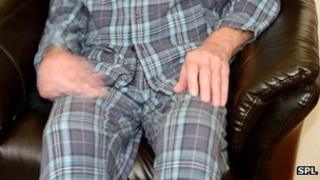 Four in ten people with Parkinson's in Northern Ireland experience discrimination because of their condition, according to new research.
The research was carried out by the charity Parkinson's UK.
It also found that seven in 10 people with Parkinson's in NI feel uncomfortable or nervous when out in public.
Some have said they have been accused of being drunk, while others said they were refused service at supermarkets.
Ward Stothers, 67, a father-of-two living in Belfast, led an active life until his diagnosis of Parkinson's in 2010.
"It's a huge challenge every day trying to walk and I have to remind myself to be careful all the time," he said.
"These days I feel anxious about going anywhere outside my home. My Parkinson's makes me trip a lot and if people push past me in the street I can easily lose my balance."
"It's hard to accept that this is happening to my body. But you have to keep picking yourself up, stay positive and just tell yourself you can get through it."
Steve Ford, chief executive at Parkinson's UK, said: "Our research confirms that far too many people with Parkinson's are having to battle against intolerable levels of prejudice.
"Life with Parkinson's can be challenging enough, but when that is coupled with feeling scared to even go out in public for fear of freezing in a busy queue and being tutted or stared at - as over half people we spoke to do - life can feel incredibly cruel."