Titanic: Grave of crew member who survived disaster marked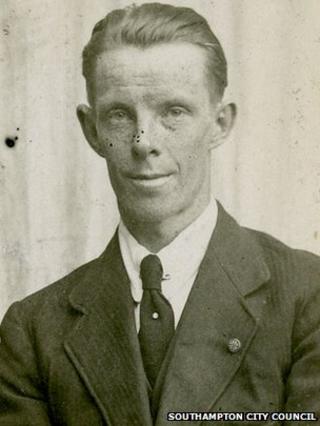 The grave of a crew member who survived the Titanic disaster has been marked for the first time in Ballymoney.
Wilfred Deable Seward was born in London in 1887 and by 1912 he was already an experienced crewman.
He was chief pantry steward for the second class passengers on Titanic.
Seward was on his bunk reading when the ship shuddered as it struck the iceberg late on 14 April.
Initially he was not concerned until another member of staff told him there was something wrong and he better go up on deck.
When the order was given to abandon the ship, the 25 year old was tasked with getting passengers on to lifeboat number three. He joined the passengers and helped row the boat away from the doomed liner.
He watched the ship sink and later recalled the experience to the Northern Constitution newspaper in 1962.
"As she went down I heard terrible screams, like people yelling wildly at a football match. Then there was nothing but silence."
Seward was picked up by the SS Carpathia. Only approximately 200 of the 900 crew were saved.
In later years he continued to work on ocean liners on the same route including the Queen Mary.
Seward retired in 1954 to Ballymoney, County Antrim where his daughter was living.
He had the opportunity to tell many local people about his experiences on Titanic before his death in 1963 aged 77.
He was buried in Ballymoney council's cemetery but his grave was never marked.
Keith Beattie from the town's museum said a decision was taken to erect a memorial last year.
"Last year during the centenary of Titanic we became aware of Wilfred Seward's story, we realised he was buried in an unmarked grave and this began to concern people because they thought that his grave should be honoured in a way that reflected what he had been through," he added.
A local undertaker answered the call and provided a headstone.
On 12 April 2013 a short service was held at Seward's last resting place to mark the erection of the new memorial. Among those who attended was Seward's great niece Jacqui Peacock who made the trip from Buckinghamshire in south east England.
"I have always known that I had an uncle who was a surviving crew member on the Titanic, but since the museum looked into his life on the ship I've learnt a lot more about him and about my family."
Many of those who died in the disaster have no grave but their names are written on memorials.
And now there is also a place to remember one of the 200 crew members who bore witness to Titanic's last moments.