Mitchel McLaughlin elected principal deputy speaker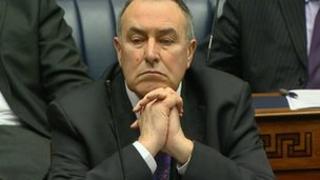 Sinn Fein's Mitchel McLaughlin has been elected principal deputy speaker of the Northern Ireland Assembly.
The vote endorsed by unionists and nationalists came after the first minister, Peter Robinson, asked him to clarify his support for policing.
Mr Robinson was concerned after a poll suggested a quarter of Sinn Féin delegates to the party's ard fheis still felt violence was justified.
Mr McLaughlin said he was disappointed by the attitude of Mr Robinson.
He said he had been part of the assembly for many years and helped bring about the Good Friday Agreement and new start to policing.
"All of that I see as part of my personal legacy," he said.
He said dissidents had petrol bombed his home in the past fortnight.
Consensus
Before the motion, SDLP assembly member Pat Ramsey argued that the appointment of a principal deputy speaker added an "extra layer of bureaucracy to the democratic process".
Mr Ramsey said: "There has never been a justifiable reason or compelling case for the appointment of a principal deputy speaker.
"The SDLP believe this is a carve-up between the two main parties, which was done without consultation and without the normal practice of this house trying to achieve a consensus.
"The British and Irish parliaments see no reason to appoint principal deputy speakers, and we have no reason in this house to seek such a system."