Orangefield High closure plan: Belfast board 'made mistakes'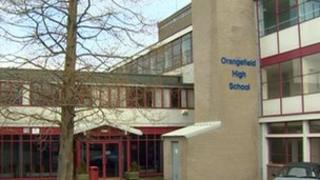 A teachers' union has accused Belfast Education Board of mistakes over the proposed closure of a secondary school.
The plan to shut Orangefield High had to be postponed because nearby schools do not have room for the pupils.
The Belfast board proposed to close Orangefield High school this summer and offer the pupils places in nearby Ashfield boys or girls schools.
But a shortage of places means the plan has been abandoned at least until next year.
In the meantime, the board has to formally apply to increase numbers allowed at the Ashfield schools.
Orangefield will have to remain open next year but with around half the current number of pupils in only a few year groups and with fewer teachers.
Seamus Searson, of the NASUWT, represents most of the school's 19 teachers.
"We think that the Belfast board got it wrong and they need to make sure they don't get it wrong again in the future," he said.
"There's too many things at risk - the children and the teachers, they need a future and we want the Belfast board to look after their interests."