Northern Ireland runners tell of fears after Boston Marathon blasts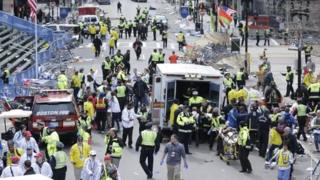 Runners from Northern Ireland who took part in the Boston Marathon have expressed concern for fellow competitors after two explosions at the finish line.
Two people have been killed and at least 23 injured in the blasts.
The cause of the explosions has yet to be identified.
Newry man Sean Smyth said he was worried about some of the people in his group who they still had not heard from.
"I went with Sports Travel International, I was running the marathon for my local charity, the Southern Area Hospice.
"There was 12 or 13 in our group and there's a few not in yet.
"I travelled on my own, but I met up with these people in the group and there's a few not back in. So we're pretty concerned about them and we're waiting to hear from them."
He added: "It's a wee bit chaotic at the minute to be quite honest, there's a lot of people quite worried about their loved ones."
Bangor man Stephen Purdy said he did not know there had been any explosions until he phoned his wife after completing the marathon.
"I just went back to the hostel and got showered and changed and phoned my wife - she was in tears and my son answered," he said.
"She was just so glad to hear from me, she told me then there had been an explosion.
"So it is a bit of a shock."
Third explosion
A third explosion occurred at the JFK Library in the city, Boston police have confirmed. No-one was injured.
The first explosion came at about 14:50 local time (18:50 GMT), approximately two hours after the winners crossed the line.
The Associated Press news agency said there was a loud explosion on the north side of Boylston Street, just before the bridge that marks the finish line. Another loud explosion could be heard a few seconds later, and smoke could be seen rising from the scene of the blasts.
TV helicopter footage showed blood staining the pavement in the shopping and tourist area known as Back Bay.
Bloodied victims were initially rushed to a medical tent set up to care for fatigued runners.
Emergency services descended on the scene, which was quickly locked down.
Stragglers heading for the finish line were rerouted away from the smoking site of the blasts.
The annual Boston Marathon attracting a large field of runners and tens of thousands of spectators.
British police are reviewing security plans for Sunday's London Marathon, the next major international marathon, following events in Boston.
You can hear more of the interviews with Northern Ireland runners on Good Morning Ulster on BBC Radio Ulster on Tuesday.