Negligence cases cost Department of Health £116m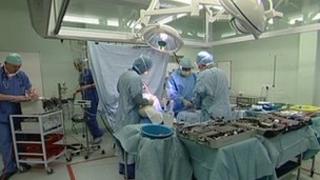 Negligence cases have cost the Department of Health in Northern Ireland £116m over the past five years.
The figure was revealed in a report by Stormont's Public Accounts Committee on Wednesday.
Between July 2004 and March 2012, there were 2,084 serious adverse incidents reported in the health and social care service.
Eight hundred and thirteen involved the death of a patient, including 488 which related to suicides.
Chair of the Public Accounts Committee Michaela Boyle said: "While not all of the serious adverse incidents reported were as a direct result of the care these patients received, the overall figure is still shocking."
She said it suggested that the standards of care being delivered by health and social care bodies "require continued scrutiny and improvement".
The report indicated that the Department of Health appeared "reluctant to undertake research" to estimate the likely level and cost of harm from such incidents.
Ms Boyle said: "Despite the introduction of a number of safety policies and initiatives, there is no reliable evidence to show that people receiving health and social care are any safer today than they were a decade ago.
"The department still cannot reliably track the progress of the health and social care services in improving safety for patients or in holding service providers accountable."
One of the issues raised in the report was that some nurses, while fully aware of their professional responsibility to report incidents, still had some reluctance about raising patient safety issues.
The report recommended that both the Health and Social Care and the department should do more to "embed a widespread culture of safety" in which "honest reporting is encouraged".
Ms Boyle said: "We must learn from events such as those that occurred in Mid Staffordshire NHS Foundation Trust in England and ensure that the same thing could never happen here."
The report also showed that patients find the complaints and claims procedures so confusing and difficult to navigate that they have to seek legal remedies.
Ms Boyle said: "The committee was concerned at the lack of a viable alternative to litigation.
"Formal alternative dispute resolution procedures, including mediation, are absent from the current system."