Liam Adams' trial: Daughter claims the accused 'confessed'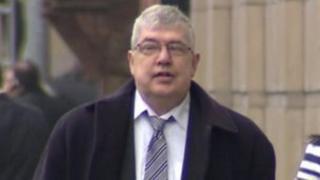 The sister of an alleged abuse victim has told a court that their father had admitted carrying out the assaults.
Sinead Rossbotham was giving evidence to Belfast Crown Court at the trial of her father Liam Adams, the brother of the Sinn Fein president, Gerry Adams.
Liam Adams denies ten charges of sexually abusing his eldest daughter, Aine, more than 30 years ago.
Ms Rossbotham told the court her father made the confession 11 years ago when she confronted him about the claims.
The witness said she had little contact with her father when she was growing up, but had met him on several occasions from 2002.
At their first meeting, Ms Rossbotham said she had asked him: "What did you do to my sister?"
She told the court her father appeared shocked, but when asked again, he replied "yeah, that happened".
Earlier on Tuesday, Liam Adams' former wife, Sarah Campbell, told the court that she believed the Royal Ulster Constabulary had tried to make her into an informer, rather than pursue the allegations of abuse her daughter Aine was making.
In the witness box, Ms Campbell told the court of two incidents in 1987 which ultimately caused her and her daughter to retract the initial allegations of sexual abuse against the accused.
The first was questiong by police about intelligence matters and paramilitary activities in the New Barnsley area of Belfast - questions she did not answer.
The second was the advice of a young social worker who came to Ms Campbell's home at the time and advised her not to talk to the police any further.
She told the court she realised then "it wasn't about my child" and feared that she was about to be made "a police tout".
"After the lady social worker came out I had no doubt I had to cut off contact with the police for my own safety," Ms Campbell said.
The allegations against Liam Adams were then retracted.
The case continues.