Smithwick tribunal: Garda criticises PSNI's intelligence handling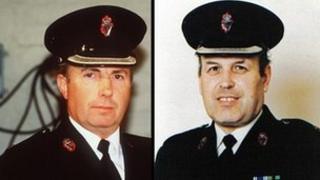 A senior Garda (Irish police) officer has criticised the PSNI for the way it handled intelligence about alleged Garda collusion with the IRA.
Det Ch Supt Peter Kirwan was speaking at the Smithwick tribunal in Dublin.
He said information provided to the tribunal by PSNI Assistant Chief Constable Drew Harris was given in such a way that it could not be checked.
The tribunal is investigating claims of Garda collusion in the IRA murders of two Northern Ireland policemen in 1989.
High-ranking
The Royal Ulster Constabulary (RUC) officers - Ch Supt Harry Breen and Supt Bob Buchanan - were shot dead in an IRA ambush in south Armagh, shortly after they left a meeting at Dundalk Garda station.
The RUC was replaced by the Police Service of Northern Ireland (PSNI) in 2001, as a result of the Northern Ireland peace process.
Earlier this year, Assistant Chief Constable Harris told the Smithwick Tribunal that during the Troubles, the IRA got information and co-operation from high-ranking garda officers.
The PSNI officer provided the information in summary form.
Regrettable
But giving evidence on Tuesday, Det Ch Supt Kirwan, who is the head of the Garda crime and security section, said his officers had not been able to check out the allegations.
He said that because Garda officers did not have the foundation documents for the collusion allegations, they were not given a chance to interpret what it meant.
Solicitor John McBurney, acting for the family of Ch Supt Breen, said it was very regrettable to hear such a senior officer complain that intelligence had not been properly shared.