Northern Ireland fire service allegations 'not substantiated'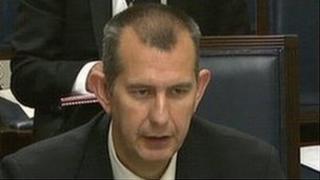 Allegations of fraud and theft in the Northern Ireland Fire Service have not been substantiated by an investigation.
However, the investigation has again highlighted management shortcomings, the health minister told the assembly.
"It again draws attention to management failures which the NIFRS should already be addressing," Edwin Poots said.
"None of this reflects on the courageous team of firefighters who continue to protect the whole community."
The Department of Social Development corporate investigations unit carried out most of the investigation.
Some of the allegations related to wood materials bought for training.
Shortcomings
"I know that members had expressed particular concern about the allegations relating to the supply of woodchip to Orange halls," said Mr Poots.
"The DSD team has considered the correlation of the amounts of woodchip purchased by the NIFRS against the likely amounts used in confirmed burns.
"While this cannot be an exact science, it has found no clear evidence to suggest any theft of woodchip material.
"Similarly it has found no evidence of unauthorised use of NIFRS vehicles to transport woodchip."
Mr Poots added: "This investigation has not substantiated the allegations but it is also consistent with previous reviews in identifying a number of shortcomings in corporate governance."
Those shortcomings had already been identified in previous reviews, he said.
"I have, therefore, asked the NIFRS interim chief executive to urgently consider the recommendations in this report and develop an action plan to address the issues raised," he added.