Margaret Thatcher funeral: Northern Ireland guests attend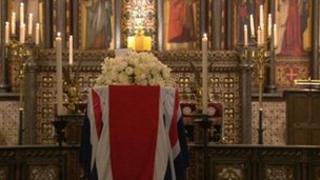 First Minister Peter Robinson and a number of other politicians from Northern Ireland have attended the funeral of Baroness Thatcher in London.
Mr Robinson represented the NI Assembly at the service in St Paul's Cathedral.
Ulster Unionist leader Mike Nesbitt and Alliance Party MP Naomi Long also attended.
Secretary of State Theresa Villiers, North Down MP Lady Sylvia Hermon and the former first minister Lord Trimble were also there.
Irish Education Minister Ruairí Quinn represented the Republic of Ireland's government.
The DUP's William McCrea was one of the senior members of the Commons who received Lady Thatcher's body into the crypt at Westminster on Tuesday.
The South Antrim MP said he disagreed with a number of Mrs Thatcher's policies, particularly the 1985 Anglo-Irish Agreement.
"In politics there are things that people agree with and disagree with and I think Margaret Thatcher did acknowledge in her record of looking back over her life that she had regretted things about the Anglo-Irish Agreement," he said.
"You can't take away the fact that she was an outstanding political figure in the UK.
"She brought a distinction and respect internationally back to Britain, which hadn't been there for some time.
"She was a person of renown - no-one can take that away from her."
Naomi Long said Mrs Thatcher's legacy was "very much a mixed bag".
"It is a mark of a civilised society that we should be able to mark the passing of significant figures in a dignified way," she said.
"There is a time and a place to discuss her legacy but on the day of the funeral there is a grieving family at the centre of this.
"She was a human being with family and friends and that is something you need to be respectful of."
About 200 states, territories and international organisations were invited to send an official representative.
Several protests took place across Northern Ireland on the day of the former prime minister's funeral.
In Londonderry, hundreds of nationalists held a peaceful demonstration at Free Derry corner celebrating Mrs Thatcher's death.
They expressed their anger over her uncompromising stance towards the Hunger Strikers in the 1980s.
In Belfast, graffiti criticising Baroness Thatcher appeared on the slopes of Black Mountain and there was a protest on the Falls Road organised by Sinn Fein