Dalai Lama: 'No alternative to peace process' for Northern Ireland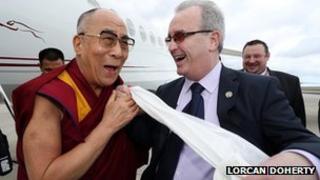 The Dalai Lama has said there is "no alternative to the peace process" as he begins a two day visit to Londonderry.
"There is no other choice - you have to work and live together so we should not act like animals," he said.
The Tibetan spiritual leader is patron of the Derry-based charity, Children in Crossfire and is guest of honour at the Culture of Compassion event.
The Dalai Lama also walked across Derry's Peace Bridge with Protestant and Catholic schoolchildren.
Later the spiritual leader will deliver his address at a former army barracks turned civic space.
He is also due to present an award to a local person to recognise an act of kindness.
Richard Moore, director of Children in Crossfire, said they were thrilled to welcome him back.
"He came to the city six years ago as part of our 10th anniversary celebrations and has been a dedicated patron of the charity since that time," Mr Moore said.
"We are delighted that people from across Northern Ireland and beyond will have an opportunity to see and hear him speak during this City of Culture year."
The Dalai Lama. who lives in exile in India, intends to promote his message of peace in the city.
Derry is the UK City of Culture 2013.