Ex-DUP council candidate is jailed for part in pipe bomb attack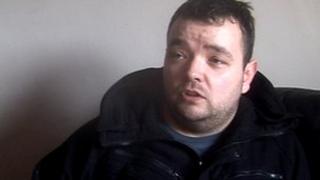 A former DUP council candidate has been sentenced to three years in prison for his involvement in a sectarian pipe bomb attack in Antrim.
The incident happened in October 2011.
John Smyth Junior, of Rockfield Heights in Connor, near Ballymena, was sentenced to three years in prison and five years on licence.
He admitted his part in making the pipe bomb after he was confronted with "overwhelming forensic evidence", but denied planting it.
The device was left at the home of a young Polish couple in the Steeple estate, just months after Smyth junior had run for election to Antrim Borough Council.
It did not go off and it was later defused.
The judge said the motivation for the attack was "naked sectarianism".
John Smyth Jnr was a DUP election candidate in the 2011 council elections but failed to win a seat.
In October 2011, a DUP spokesman said Mr Smyth Jnr had been suspended from the party pending the outcome of the case.