BBC documentary follows Rihanna farmer's anti-raunch campaign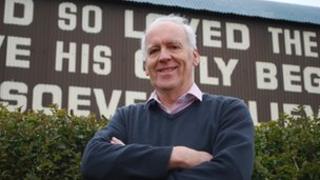 As a north Down farmer and DUP councillor, Alan Graham has lived a life fairly removed from pop music.
"I don't think I ever deliberately watched a pop video," he said.
That changed in September 2011 when international superstar Rihanna asked to film in his barley field - when he saw her going topless, he asked for filming to stop.
His name hit headlines and Mr Graham became known around the world as the Northern Ireland man who told Rihanna to cover up.
The final edit of Rihanna's video for We Found Love featured sexual images and suggestions of drug use and violence - and Mr Graham and his wife started to look at the imagery in other pop videos.
Campaign
"It certainly wasn't appropriate for children," he said. "I don't believe that it's good for anybody to watch from my point of view, but this stuff is readily available to children.
"You would think there was a competition between the performers to see who could be the most raunchy."
Now he is on a campaign to see if pop music videos can be cleaned up.
In a documentary to be aired on BBC One Northern Ireland on Monday, he brings his message to figures from across the pop music industry.
From Louis Walsh the X Factor judge to The Sun newspaper's showbusiness editor Gordon Smart, and from television presenter Gail Porter to Reverend Jesse Jackson the civil rights campaigner, it is all a far cry from Mr Graham's Bangor farm.
"Anybody can attract attention by taking their clothes off," Mr Graham said. "Ideally a performance of any sort should be something that a man and his wife and children can go to together and not feel embarrassed."
He wants musicians to be famous as musicians, and points to Adele as an example of someone who has achieved success without the kind of raunchy images and semi-nudity that prompted him to ask Rihanna and her team to leave his field a year and a half ago.
Although Mr Graham became a figure of fun for some and was criticised for his actions, he received international support for his stance against sexualised and provocative music videos.
He started to be sent fan mail - and although some was addressed just to 'Rihanna's Farmer, Northern Ireland', it still managed to reach him.
Mr Graham feels the culture of raunchy music videos points to a "lack of respect for women".
He said: "Young people see this type of explicit sexual behaviour before they are physically, emotionally and mentally ready. It possibly leads to abusive relationships.
"We need to move away from measuring women's worth this way."
Unfashionable
Mr Graham's story became part of a wider debate about the direction of the music industry, the documentary's producer and director has said.
David Cummings said: "Alan may be very traditional in his views, but I think he has tapped into something huge here.
"Alan has taken an unfashionable, but very courageous, stand and it was fascinating to watch him attempting to tackle the music industry head-on."
The global music industry is worth hundreds of billions of dollars. With the might of such heavyweights against him, can Mr Graham really hope that his campaign will change anything?
He is optimistic.
"There will an appetite for spicy stuff and people lower standards to raise profits," he said.
"But I think a lot of it will go back to mothers and fathers and grandparents trying to put some pressure on the industry to really ask it does it need to do this."
Rihanna's Farmer, BBC One Northern Ireland, Monday 22 April, 22:35 BST