PUP in reconciliation process call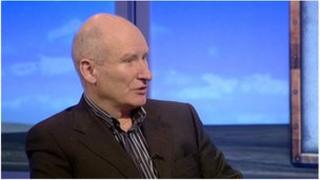 The Progressive Unionist Party has said it would welcome the opportunity to take part in a reconciliation process, provided the conditions are right.
The party said no reconciliation process can have merit if there is any hint of exclusion or bias.
The PUP, which has links with the UVF, said reconciliation should be a social process.
It should not be an extension of "the two horse political race" at Stormont, it added.
In a document released on Monday, the PUP said any process should facilitate the nationalist narrative, but there must be a recognition that for the foreseeable future Northern Ireland is an integral part of the UK.
The party says that in the past, loyalists have shown a readiness to respond to peacemaking initiatives, and the PUP remains willing to continue doing this if the circumstances are genuine and transparent.
In a statement, Sinn Fein Assembly member Mitchel McLaughlin said: ""On an initial reading the commitment to inclusivity as part of the discourse as we move forward is welcome.
"Likewise the acknowledgement that there can be no hierarchy of victims in any future process and the need for sensitivity are positive indications.
"The reality is to date that many within political unionism and indeed the two governments have run away from this issue. What is needed is fresh thinking and the PUP are clearly trying to play a role in that with today's document.
"The notion that we can simply ignore the needs of victims or the need for a process of genuine reconciliation and hope that the political process will succeed regardless is not tenable."
Earlier this month, Sinn Fein president Gerry Adams called on republicans to be ready to build alliances with loyalists on social and economic issues.
The Sinn Fein chair Declan Kearney told delegates at the party's ard fheis (annual conference) that during the past year "leaders from mainstream loyalism have met with us and explained their apprehensions and ambitions about the future".
Questioned about Mr Adams' initiative, the PUP leader Billy Hutchinson told last Friday's BBC's Inside Politics programme that his party is "prepared to talk to anyone about improving people's social and economic conditions".