Gerry Adams: 'I was not saving my political skin'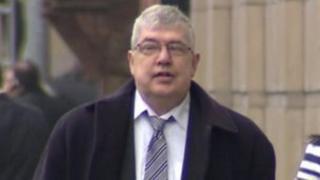 Sinn Fein president Gerry Adams has denied making a statement to police about alleged child sex abuse "to save his political skin".
Child abuse is "above politics" and saving his skin was "no consideration whatsoever," he told Belfast Crown Court.
He was giving evidence at the trial of his brother, Liam, who denies 10 charges of sexually abusing his daughter Aine.
She has waived her right to anonymity.
Earlier on Monday Gerry Adams told the court that his brother had admitted sexually abusing his daughter.
The Sinn Fein president said that Liam Adams made the alleged admission during a long walk in the rain in Dundalk, County Louth, in 2000.
"He acknowledged that he had sexually abused Aine. He said it only happened the once."
The politician said that he had dealt with the case "in a very forthright and honest way".
He told the court he did not think his brother was a danger to other youngsters, although he had "acquainted" a priest at Clonard monastery youth club about the sex allegations and he had also advised his brother to get out of youth work.
Mr Adams said he did not believe Liam Adams to be a danger, "given his acknowledgement to me (that he had abused his daughter), and that this had only happened once".
Mr Adams said he had first confronted his brother about the alleged abuse during a meeting in Buncrana, County Donegal, in 1987. He told the court that at that time Liam Adams denied the allegations.
Mr Adams said that when the conversation concluded he spoke to his brother telling him "this was a very serious situation, that he had to reflect on and to acknowledge what she (Aine) was saying, that she had no reason to make any of that up".
He added later that he had two further meetings with his brother Liam, "one in my home, and one day walking in the Falls Park".
Later, the defence barrister suggested that the alleged admission had not taken place.
"You say that your brother made an admission to you in 2000 walking in the rain in Dundalk. I should make it clear to you that I suggest no such admission was made," she said.
Gerry Adams replied: "I don't accept that but I understand it."
Under cross examination, Mr Adams said that initially he knew nothing of his niece's specific claims of rape against her father and that this remained the situation "for 20 years".
The politician said he had "no recollection" of Aine's mother telling him specific details, adding that he had not wanted to know the details, and that it was "a terrible thing that had happened". He also denied saying that if the allegations were true he would have hit his brother "with a hammer".
The prosecution put it to Mr Adams that he had said he had not been in contact with his brother for 15 years from 1987 until 2002, while photographs and other evidence suggested they had been in contact on a number of occasions.
"Well your grasp of the calendar of these events is better than mine," Gerry Adams said, adding that the separation may not have been as long as 15 years.
Mr Adams told the court that he "did have a problem with exact timelines" for events, but denied that he had lied to a journalist about his brother in an effort to distance himself from him.
The court heard that Mr Adams gave his first statement to the Police Service of Northern Ireland about the matter in 2007.
He gave a second statement in 2009 in which he said that in 2000, Liam Adams had admitted to him that he had abused Aine.
The court heard that in 2009, Gerry Adams had given an interview for a TV programme about the allegations.
A defence lawyer said: "You went to the police because you knew the question of you withholding information was going to become a matter of public debate."
Gerry Adams said: "I did not know that."
The defence lawyer also said: "The reason you made this statement to police on 21 October 2009 was to save your political skin."
He said that if he had been interested in saving his "political skin", he would not have got involved in the process from the beginning.
"I was trying to fulfil my responsibilities as the uncle of a young woman I am very fond of and doing my best to resolve all of this," he told the court.
"This is above politics and saving my political skin is no consideration whatsoever in any of these matters."
Liam Adams, 57, from Bearnagh Drive, Belfast, denies 10 charges of sexually abuse, including rape, indecent assault and gross indecency, against his daughter between 1977 and 1983.
The trial continues.